Hanukkah Activities 2020
Join us to celebrate Hanukkah!
Let's bring some shimmer and light into our lives this year!
Light the Night
TINW Family DIY Hanukkah Menorah Challenge
Thursday, December 10 - Submissions Due!
Looking to add some light to the cold and dark days of winter?
Keep busy and get crafty at home by designing your own menorah for TINW's first-ever Hanukkah Menorah Challenge! Get out those glue guns and bolts and let the whole family work together (it's a great way to spend the long Thanksgiving weekend). Or go solo on your own design – it's up to you! Take part in reviving a wonderful tradition started by our very own Gaye Katz of blessed memory.
Rules:
Each menorah must have 9 candle holders (one for each night of Hanukkah and a shamash)
It must be usable in some way (ie, if you build a menorah out of legos, you need to figure out a way to light it without melting it. The legos themselves don't count as the candles!)
Need inspiration? Check out these photos for ideas--they use everything from hockey pucks to donuts to paintbrushes! For each entry received, we will make a donation to Light the Night, the fundraising campaign for the Leukemia and Lymphoma Society. Your creativity in making lights will help bring light to those affected by cancer.
Please submit a photograph of your entry and its creator(s) so that we can share your design with our entire community. Send all entries to Cantor Fogelman (cantor@tinw.org) by Thursday, December 10th.
---
Hanukkah Greetings Video
Thursday, December 10 - Submissions Due!
TINW is committed to finding ways to bring our community together this Hanukkah season, despite the challenges of social distancing. We're putting together a video montage featuring messages and greetings from TINW families as well as some special guests! We want each of you to take on a starring role. It's easy -- all you need is a few seconds. Sing your favorite Hanukkah song, show off your menorah, or simply record a simple "Happy Hanukkah" message. You can also submit holiday themed pictures (past and present). A wonderful way to connect with one another during the holiday season!
---
Hanukkah means "dedication." This year let's demonstrate our dedication to Judaism by fulfilling at least one Jewish value / commandment through the December Hanukkah Mitzvah Challenge.
Special thanks to Brian Goldberg for designing our
Mitzvah Challenge Menorah!
---
Village of Croton Lighting Ceremony

Thursday, December 10
5:30 PM
The Village of Croton will host a brief lighting ceremony commemorating the holidays on the first night of Hanukkah. A menorah will be lit for the first night of Hanukkah as well as a tree lit for Christmas. Cantor Fogelman will light the first candle on the Village menorah.
No food will be shared and all safety protocols including masks and social distance, will be in place for all participants.
---
Hanukkah Zoom "Parties" with Clergy

December 10, 12, 13, 15, 16 and 17
7:00 PM
Log in and sign up with your friends to have a Zoom Hanukkah party with TINW's Clergy (this event is only available to TINW Congregants). During each night of Hanukkah Rabbi Jaech, Cantor Fogelman or Rabbi Pein will lead a brief candle-lighting ceremony for small groups to celebrate together. Multiple families can join each night to enjoy the holiday together. Register to celebrate Hanukkah with TINW Clergy.
---
Hanukkah Shabbat Service
Friday, December 11
7:00 PM
Second night of Hanukkah Shabbat service will be broadcast over Zoom in addition to the livestream so that we can light the candles together as a congregation.
---
TINW Hanukkah Schmooze-By

Sunday, December 13
11:00 AM - 1:00 PM
Join us for a Hanukkah "Schmooze-By" for all TINW members as we "give a little, get a little…" Enjoy Hanukkah music, greet our clergy, drop-off your donations for the

Midnight Run

, and take home our gift to you of a Hanukkah Celebration Kit including candles, gelt and jelly donuts.

Register to pick up your Hanukkah Celebration Kit!
---
Hanukkah Baking with the Sisterhood
Join the Sisterhood with your family for a special Hanukkah baking session. Learn to make easy & delicious Sufganiyot Munchkins (jelly donuts). Register here for the Hanukkah Baking Session
---
TINW Hanukkah-thon 2020
Consider donating to Hanukkah-thon 2020...Thank you and happy holidays!
---
Hanukkah Music for Kids from PJ Library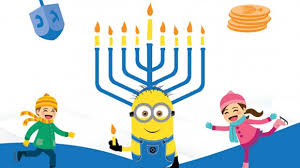 Spotify PJ Library Hanukkah Song List
Kids Hanukkah Books & Stories from PJ Library
Kids Book List with Hanukkah Stories
Hanukkah Activities Across No. Westchester
See listings for activities in Northern Westchester like the ones below.
A Chanukah Menorah Lighting with Ethiopian Israelis!
1pm - Come join us as we light candles together with members of the Ethiopian-Israeli community and hear about their traditions and personal story of immigrating to Israel.
Are you a teen in Northern Westchester looking to make a difference during this unprecedented time?
Join J-Teen Leadership and BBYO in shopping for non-perishable food items and supplies for Temple Shaaray Tefila's Holiday Dinner drive! To sign up, please contact Katie Lipson at J-Teen Leadership.
Meals for Christmas
Spend some family time helping those in need this holiday season. Help Temple Shaaray Tefilah's efforts in making 2,500 Christmas dinners for the hungry in Westchester. Sign Up Genius to help this effort.
Wed, November 25 2020
9 Kislev 5781
Events
Today's Calendar
---
Friday Night
Candle Lighting

: 4:10pm
Shabbat Worship

: 7:00pm
Shabbat Day
Upcoming Programs & Events
---
This week's Torah portion is

Parashat Vayeitzei
Candle Lighting
Erev Hanukkah
View Calendar
Coming Soon... Join Our Mailing List
Wed, November 25 2020 9 Kislev 5781