Brotherhood's Virtual Comedy Night
Saturday, January 23, 2021
•
10 Sh'vat 5781
8:00 PM - 10:00 PM
Zoom
INVITE YOUR FRIENDS &
GET READY TO LAUGH!!
Zoom in for our Annual, but very first Virtual,
Comedy Night
Saturday, January 23, 2021

8:00 pm - 10:00pm
Eastern Standard Time
$54 per household
50/50 Raffles
Michael Somerville tried standup comedy on a dare while a student at the University of Notre Dame. Upon
graduation, he moved to NYC and took a job in advertising but, when his neck became irritated fr
om shaving every day, retired to pursue comedy full time. His first job was dancing in a pink bear suit at a Bar Mitvah. Since then, Michael has carved a unique niche in entertainment - comedian, TV host, writer, advice guru … there isn't much he doesn't do. Michael wrote and hosted the reality show "Wingman", imparts humorously insightful advice on The Hallmark Channel and has performed standup on The Late Show with David Letterman four times. He also serves as a panelist on various programs for VH1, Bravo and The History Channel and spent three years as Glamour Magazine's renowned dating columnist "Jake". Michael has hosted shows for Nickelodeon, Starz and Encore and contributed to numerous publications from Time Magazine to Maxim. His two comedy CD's "Welcome to Somerville" and "Handsomely Disheveled" play in regular rotation on satellite radio. In his free time, Michael likes sleeping late and fettuccini, and loathes the sound of honking horns. While generally convivial, he is most fun after coffee.
High-energy, commanding and versatile - but enough about her sex life - Kerri Louise can entertain any
audience with her warmth and razoredge wit. So it's no wonder that Kerri was a regular correspondent on The Oprah Winfrey Show. Because of that, Kerri was asked to be on the very first episode of The Dr. OZ Show. NBC took Kerri all the way to the finals in the show Last Comic Standing. Her performance on that show prompted The Women's Entertainment Network to make her the star of a new reality show called "TWO FUNNY". More Guest Appearances Include The Howard Stern Show, TV Guide's Stand-Up In Stilettos, The Montel Show, Nickelodeon Nick Mom Night Out, Comedy Central, The View, VH1, HBO Aspen Comedy Festival and The Montreal Comedy Festival. Don't miss Kerri on her first Showtime special, "Funny Women of a Certain," that debuted in 2019 hosted by Fran Drescher!
Brad Trackman is a national touring comedian who has been featured as a stand up on CBS's The Late Late Show with Craig Ferguson, Comics Unleashed with Byron Allen, Star Search with Arsenio Hall, AXS tv's Gotham Com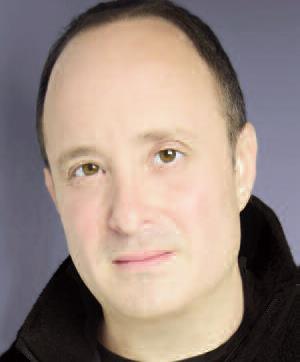 edy Live, MTV's The Buried Life, New Joke City with Robert Klein, NBC's Later, NBC's Friday Night and numerous appearances on Comedy Central. Trackman also had his own commercial campaign on Spike TV where he played the fictitious Presidential Candidate Biff Wolanski. Brad started his career in NYC and is a regular at The Comedy Cellar, Gotham, The Comic Strip Live, Carolines on Broadway and Stand Up NY. Also a regular in Atlantic City at the Borgota Casino and Las Vegas at Brad Garrett's Comedy Club in the MGM Casino. Trackman has also opened for such legendary comedians as Joan Rivers, Robin Williams, Dana Carvey and Weird Al Yankovic. Brad has two comedy albums of him headlining The D.C. Improv. Both are critically acclaimed and available on iTunes. Most recently Brad became a published author writing the biography of shock jock Anthony Cumia who was part of the legendary radio show Opie and Anthony. The book, entitled Permanently Suspended, is available in book stores nationwide.
MAKES A GREAT HANUKKAH GIFT FOR FAMILY AND FRIENDS!
If you have an Account with Temple Israel, please log in at the upper right on this page before making your purchase.
Share Print Save To My Calendar
Wed, November 25 2020
9 Kislev 5781
Events
Today's Calendar
---
Friday Night
Candle Lighting

: 4:10pm
Shabbat Worship

: 7:00pm
Shabbat Day
Upcoming Programs & Events
---
This week's Torah portion is

Parashat Vayeitzei
Candle Lighting
Erev Hanukkah
View Calendar
Coming Soon... Join Our Mailing List
Wed, November 25 2020 9 Kislev 5781