Yom Hashoah Candle Lighting
Wednesday, May 1, 2019
•
26 Nisan 5779
8:30 PM - 10:00 PM
It has been seventy-four years since Nazi concentration camps were liberated, and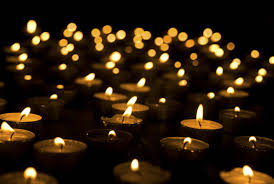 the Holocaust that claimed six million Jewish lives, along with five million others, came to an end. To ensure that our sisters and brothers did not die in vain and that the Holocaust never happens again, TINW Brotherhood will once again join Jews and others throughout North America to honor their memory, and to keep aware of the need for vigilance, by participating in the YOM HASHOAH YELLOW CANDLE PROGRAM. For other TINW Yom Hashoah programs click here.
Enclosed you will find your Yom HaShoah Yellow Candle. We hope that you will symbolically join with other members of our synagogue by lighting one candle on Yom HaShoah, which begins Wednesday evening, May 1st, 2019. Yom HaShoah candles represent a highly visible symbol of both the yellow badge that Jews were forced to wear under Nazi occupation and the promise that we can make our world a better place to live. It is our hope that this event, centered on the lighting of a Yellow Candle, will become an annual event in your home.
This is the nineteenth year of our participation in this program and the fourth year that we have named our participation in honor of Randy Zapakin who so passionately took on the responsibility of organizing this important endeavor over the years. The Yom HaShoah Yellow Candle Program began as a project of the Federation of Jewish Men's Clubs.
Brotherhood will be making every effort to either hand out or deliver a Yellow Yom HaShoah Candle package to as many of our families as possible. They will be distributed through the CJL, temple meetings and at services during the evening of Yom HaShoah. Additionally, packages will be available for pick up in the Temple lobby.
As in the past, we are asking that you help us underwrite the cost of this project. Any funds collected over and above our costs will be donated to THE HOLOCAUST AND HUMAN RIGHTS EDUCATION CENTER.
Share Print Save To My Calendar
Wed, November 20 2019
22 Cheshvan 5780
TINW Happenings
All Events
JEWEL: Historians Examine Antisemitism


Thursday, Nov 21st

12:00pm

to

2:00pm




Jack Judd will present historians Examine Anti - Semitism. Attendees are encouraged to bring their own lunch and we will supply coffee/tea and cookies.

Midnight Run


Shabbat, Dec 7th

1:00pm

to

3:00pm




Help collect and sort warm men's clothing, make sandwiches at 1:00 PM, then drive to NYC at 8:00 PM in the evening to deliver items.

TIPJY Latke Event


Wednesday, Dec 11th

7:00pm

to

8:00pm




Hang out with friends and make some delicious latke treats to snack on! It's a terrific way to spend an evening! Sign your 6th & 7th Graders up now!

Tot CJL Hanukkah Celebration


Sunday, Dec 15th

9:30am

to

10:30pm




Join us for a morning of songs, crafts and snacks as we learn about and celebrate Hanukkah! To make the morning more special, the activities will be followed by a family concert featuring Sheldon Low and Hanukkah treats!
Events
Today's Calendar
CJL Classes

: 4:30pm
Finance Committee mtg.

: 7:15pm
---
Friday Night
Candle Lighting

: 4:13pm
Shabbat Worship

: 7:30pm
Shabbat Day
Upcoming Programs & Events
---
This week's Torah portion is

Parashat Chayei Sarah
Candle Lighting
Erev Hanukkah
View Calendar
Coming Soon... Join Our Mailing List
Wed, November 20 2019 22 Cheshvan 5780