Yom Hashoah Candle Lighting
Wednesday, May 1, 2019
•
26 Nisan 5779
8:30 PM - 10:00 PM
It has been seventy-four years since Nazi concentration camps were liberated, and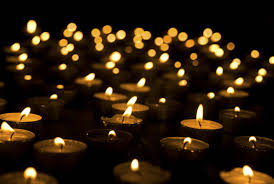 the Holocaust that claimed six million Jewish lives, along with five million others, came to an end. To ensure that our sisters and brothers did not die in vain and that the Holocaust never happens again, TINW Brotherhood will once again join Jews and others throughout North America to honor their memory, and to keep aware of the need for vigilance, by participating in the YOM HASHOAH YELLOW CANDLE PROGRAM. For other TINW Yom Hashoah programs click here.
Enclosed you will find your Yom HaShoah Yellow Candle. We hope that you will symbolically join with other members of our synagogue by lighting one candle on Yom HaShoah, which begins Wednesday evening, May 1st, 2019. Yom HaShoah candles represent a highly visible symbol of both the yellow badge that Jews were forced to wear under Nazi occupation and the promise that we can make our world a better place to live. It is our hope that this event, centered on the lighting of a Yellow Candle, will become an annual event in your home.
This is the nineteenth year of our participation in this program and the fourth year that we have named our participation in honor of Randy Zapakin who so passionately took on the responsibility of organizing this important endeavor over the years. The Yom HaShoah Yellow Candle Program began as a project of the Federation of Jewish Men's Clubs.
Brotherhood will be making every effort to either hand out or deliver a Yellow Yom HaShoah Candle package to as many of our families as possible. They will be distributed through the CJL, temple meetings and at services during the evening of Yom HaShoah. Additionally, packages will be available for pick up in the Temple lobby.
As in the past, we are asking that you help us underwrite the cost of this project. Any funds collected over and above our costs will be donated to THE HOLOCAUST AND HUMAN RIGHTS EDUCATION CENTER.
Share Print Save To My Calendar
Wed, June 26 2019
23 Sivan 5779
TINW Happenings
All Events
Roots/Shorashim/Judur – A Local Palestinian Israeli Initiative for Understanding, Nonviolence & Transformation


Sunday, Jun 30th

12:15pm

to

3:00pm




After a light lunch, compliments of Rabbi Jaech's Discretionary Fund, the program will begin at 1:00. Join Shadi Abu Awwad and Hanan Schlesinger as they tell their personal stories and of their efforts to build a better future for their peoples. Registration is required for this free event.

CJL Discounts End!


Sunday, Jun 30th

2:00pm

to

11:00pm




Last day to receive the Early Bird Discount for CJL.

All Ages Pop Up Shabbat


Friday, Jul 12th

6:30pm

to

8:00pm




An alternative Shabbat experience that takes advantage of our beautiful area and the lovely weather.

Brotherhood BBQ at Senasqua Park


Monday, Jul 22nd

6:00pm

to

9:30pm




A fun, FREE BBQ for all men of TINW! Please join us to relax by the river with some great food and even better company.
Events
Today's Calendar
---
Upcoming Programs & Events
---
Parashat Korach
Candle Lighting
Fast of Tammuz
View Calendar
Coming Soon... Join Our Mailing List
Wed, June 26 2019 23 Sivan 5779